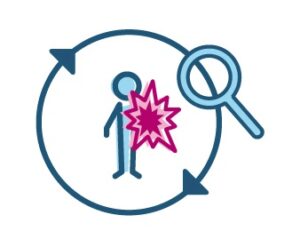 DO YOU KNOW WHAT PROBLEM YOU ARE TRYING TO SOLVE?
A detailed understanding of the risk patterns and the relevant stakeholders is essential for designing a targeted response to reduce risk. As a crisis evolve—often rapidly—risk patterns change. A context-specific protection analysis that is continuously reviewed will reflect this and will help you adjust your response.
Without a good protection analysis, you may end up spending time and resources on solutions that do not work, or even cause more harm through misguided action.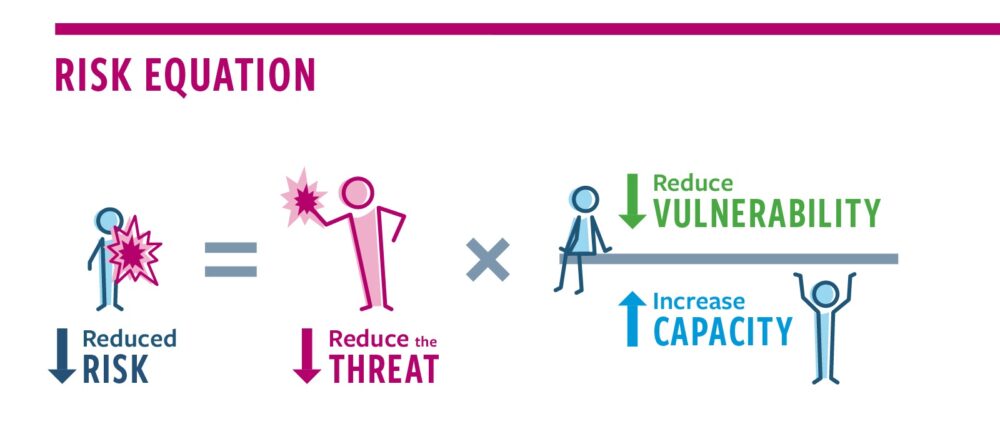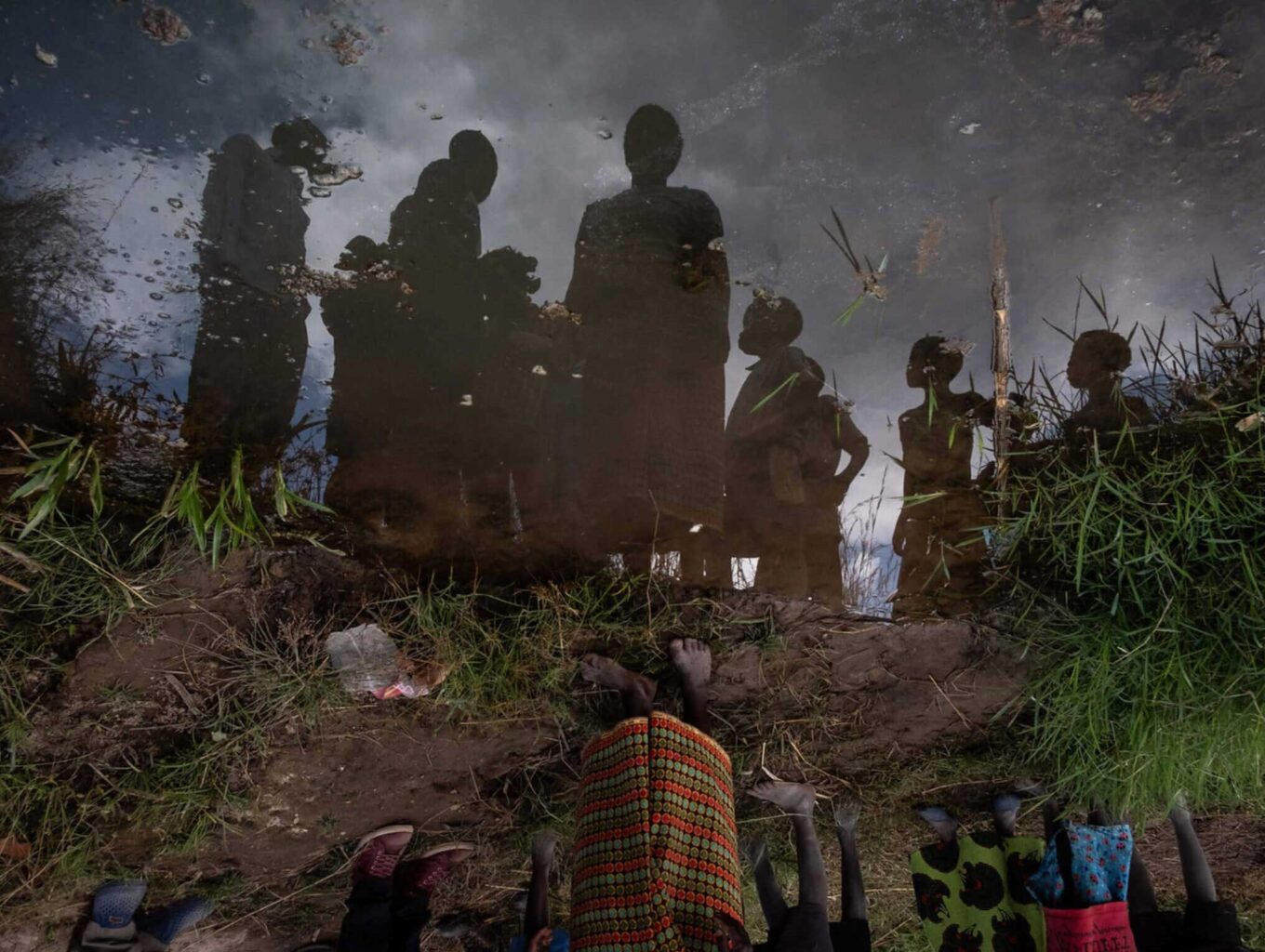 Identify, prioritize, and analyze specific types of protection risks (violence, coercion, and deliberate deprivation).
Engage the affected population, as much as is safely possible, to identify the components of risk, specific threats, who is vulnerable to these threats and why, and the capacities of affected people to cope with and reduce the threat and/or their vulnerability to a threat.
Consider how historical and current socio-political, conflict and cultural dynamics, legal frameworks, and the humanitarian response may affect the risk patterns.
Start with a basic protection analysis that informs your initial response, then learn, adapt, and enhance your analysis throughout the response.
WHAT you need to do it
Design new or adapt existing tools that capture information about the components, patterns, and dynamics of protection risks. Do this through regular activities such as protection monitoring, case management, and community group activities. Supplement those with specialized assessments such as rapid or in-depth/thematic protection assessment. Your tools should emphasize community engagement to gain the perspective of the affected population and their priorities.
Allocate staff and time to continuously undertake protection analysis and systematically use this analysis in planning and implementing your response. This process can be as simple as weekly meetings to analyze changes in risk patterns or a section in weekly reports to management.
Develop staff skills in critical thinking and analysis. This might include scenario planning and forecasting to help inform better decision-making.
Ask staff at all levels, but particularly frontline staff, to do analysis regularly.
Put information management systems in place to continuously collect and analyze information. They should analyze disaggregated risk factors, changes in risks over time, and progress towards desired outcomes.
Include participatory community-level appraisal methods and informal methods, such as having tea with a community leader. Tapping into the knowledge of frontline staff can also yield tremendous insight. Informal information flows can be robust and valuable if they are recorded in a systematic way.
Build and promote a culture of analysis that prioritizes continuous analysis, not just data collection. This culture of analysis should include all levels of staff. Develop the capacities of field staff and community members to carry out or lead the protection analysis.
| Title of File | Language | |
| --- | --- | --- |
| Analyse de la protection continuelle et contextualisée | French | Download |
| Análisis de protección continuo específico del contexto | Spanish | Download |
| الحماية القائمة على النتائج: دليل الميسر ومواد التدريب | Arabic | Download |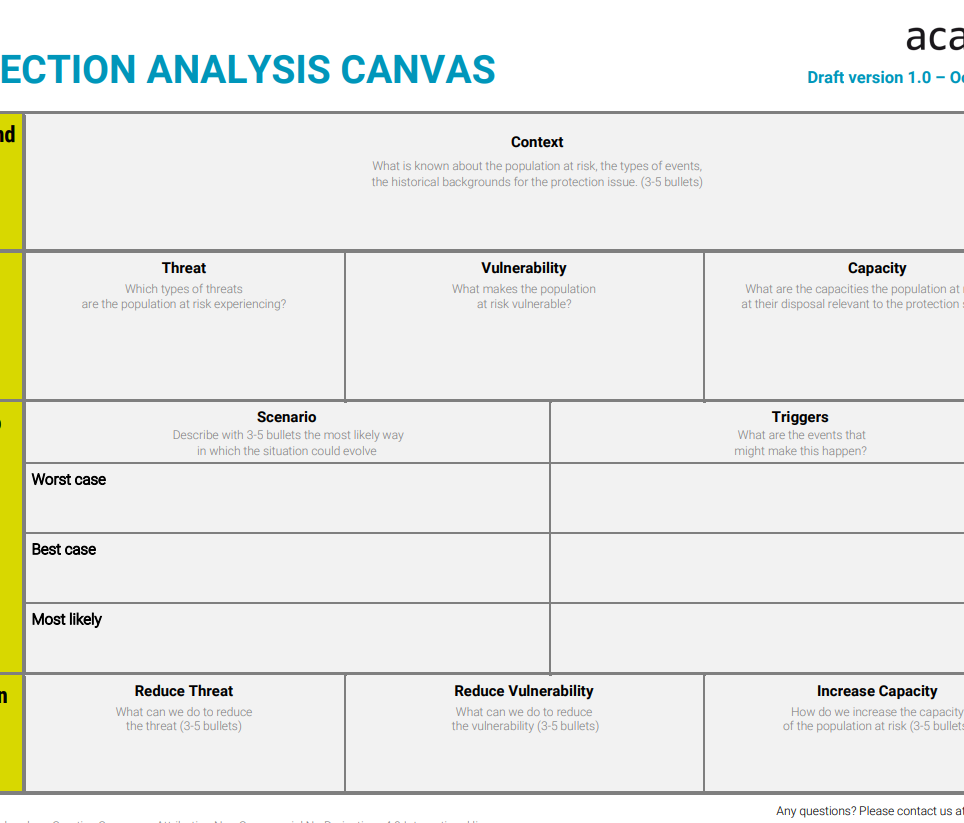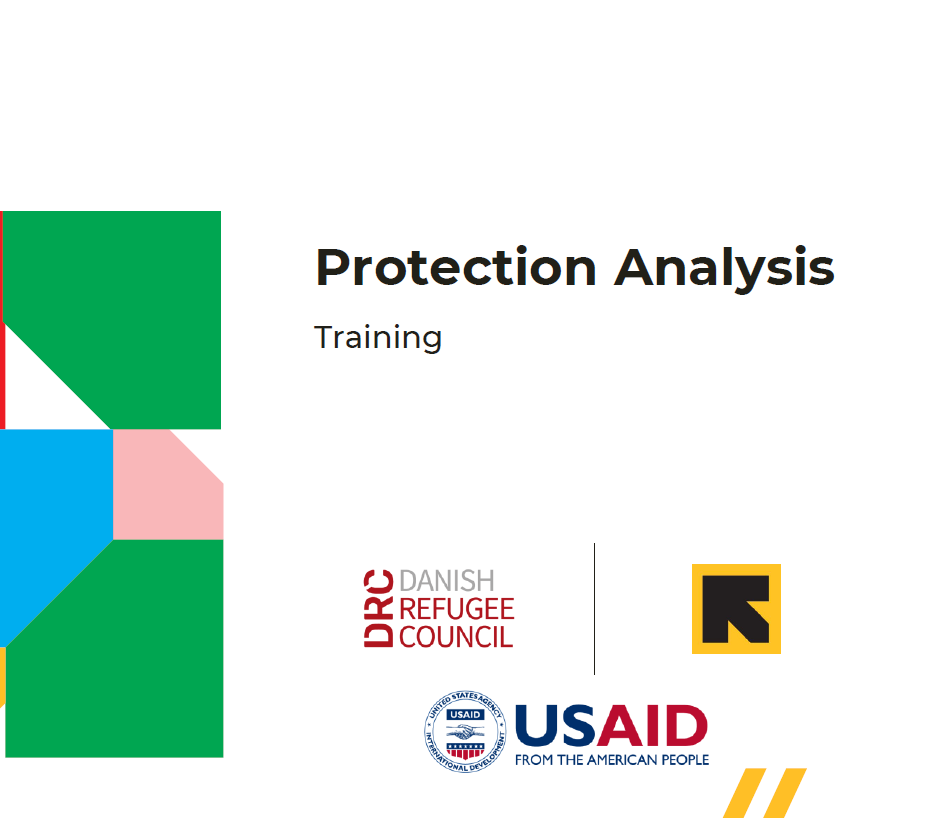 IRC-DRC Prevention Analytical Framework (PAF): An Introduction
Learn More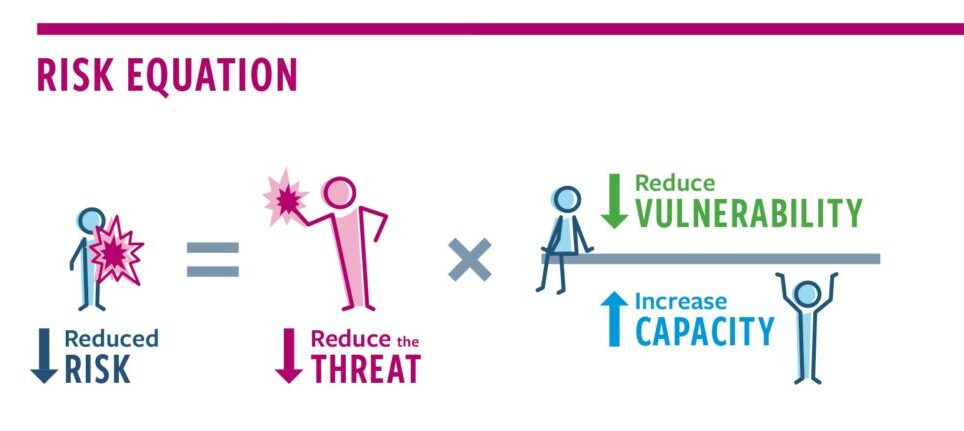 Risk Equation