Armed conflict is the single biggest challenge to achieving zero hunger. According to the U.N. World Food Programme, almost 60% of the 690 million people facing acute hunger around the world live in areas affected by armed violence. The lack of respect for civilian life and property by parties to conflict disrupts food systems and food markets, destroys livelihoods and employment, and threatens development gains.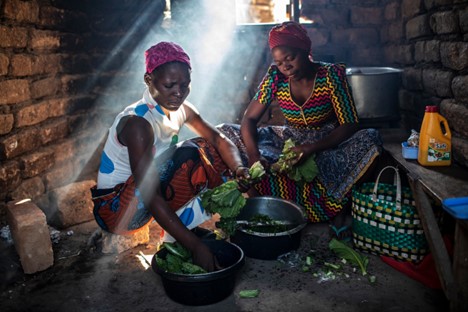 WHAT'S THE LINK BETWEEN CONFLICT-INDUCED HUNGER AND PROTECTION?
Conflict-induced hunger increases protection risks and displaces people. State and non-state parties to conflict cause hunger and starvation through violence, coercion, and deliberate deprivation. Acts such as restricting people's movements, failing to act when food is blocked, or selectively providing food aid also contribute to hunger and starvation. Additionally, food insecurity contributes to risks such as family separation, gender-based violence (sexual abuse and exploitation), and physical attacks as people search for food, water, and access to services.
THE GOAL:

Through a multi-disciplinary effort, the aim is to help organizations analyze the protection risks in each country context and develop context-specific theories of change, to encourage the uptake of outcome-oriented ways of working to address protection issues manifesting due to conflict-induced food insecurity.
Our Approach
The methodology incorporates InterAction's RBP framework that situates protection as an outcome, manifested as a measurable reduction in protection risk experienced by affected populations. Applying the RBP framework will clarify which protection risks lead to food insecurity and protection risks that result from or are exacerbated by food insecurity. The direction of the action-based research will be steered by (1) an Advisory Group of partner organizations who will provide input and feedback on key deliverables of the initiative and contribute other resources to the study and (2) Country Groups comprised of organizations in each country context that represent various disciplines and sectors and include both international and national actors that offer dedicated contextual guidance and participate as enumerators of the study in locations where the research is taking place.
Key aspects of this issue will include:
Gender Dimensions: Investigating how conflict-induced hunger affects marginalized groups differently using an intersectional gender lens
Responsibility for protection risks: Exploring where direct and indirect responsibility lies for protection risks and the beliefs, needs, attitudes, and positions of key actors
Inclusion of local actors and knowledge: Shedding light on local responses to these risks and how they can be supported
Leveraging context-specific frameworks: Understanding context-specific traditional and religious norms and frameworks that complement International Humanitarian Law
Intersecting climate and conflict dynamics: Considering how specific risks materialize in the face of simultaneous conflict and climate crises
RESEARCH LOCATIONS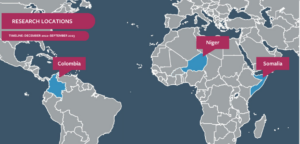 HOW CAN ORGANIZATIONS PARTICIPATE/BENEFIT FROM THE RESEARCH?
The approach aims to equip members of the Country Group with new methods in support of results-based approaches to protection, including participatory methodologies that engage affected populations and incorporate effective methods for evaluating protection outcomes. Therefore, as much as this initiative is aimed at undertaking research, it is also a skills-building opportunity to support organizations in each country to develop collective strategies to achieve protection outcomes and present those solutions to policymakers and donors.
Funding for this project is provided by the Swedish International Development Cooperation Agency (SIDA). The ideas, opinions, and comments here are entirely the responsibility of InterAction and do not necessarily reflect SIDA's policy.