On Thursday January 21, 2016 from 9:00-10:00 AM EST, DME for Peace and InterAction hosted a discussion on What Works in Measuring Peacebuilding and Protection Programs with Crisis Affected Populations?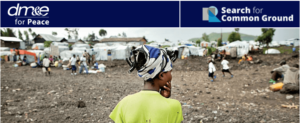 This discussion dove deep on how peacebuilding programs measure the real change they are effecting in stopping and preventing violent conflict. The conversation covered tools and methods that are used to measure peacebuilding programs and their contributions to peace and stability writ large, how program staff understand and adjust their work to be more effective based on incoming evidence, and what are emerging and proven methods to measure results. This discussion addressed these issues through a peacebuilding lens, but will also be of interest and use to humanitarian and development professionals.
Two of the tools mentioned during the discussion were the Emerging Practices in Design, Monitoring, and Evaluation of Education for Peacebuilding Programming Guide and the Guidance Note on Conflict Scans Methodology.
ABOUT THE SPEAKERS
Adrienne Lemon is a Design, Monitoring and Evaluation Specialist at Search for Common Ground and oversees the quality of research and learning documents produced by SFCG in the Great Lakes, East and Southern Africa. Adrienne's academic research focuses on post-conflict reconstruction and political participation in Burundi. Skilled in both qualitative and quantitative methods, she has experience in conflict assessment, media research, and research on marginalized groups (specifically children, women and prisoners).
Casey Hogle is the Middle East and North Africa Program Manager at Search for Common Ground, where she supports regional programs and six country offices. She provides technical peacebuilding and program management support including through in-country missions, represents SFCG-MENA at donor meetings and policy forums to promote our peacebuilding efforts, leads proposal development, and manages regional programming. Casey previously worked for human rights and women, peace and security organizations in the USA and in the MENA region. She has lived in Jordan, Libya and Syria. Casey holds an MA from the Fletcher School of Law and Diplomacy at Tufts University and a BA from Carleton College.
Rebecca Herrington is a Design, Monitoring, and Evaluation Specialist with Search for Common Ground, currently working with 14 countries to provide technical DM&E support to UNICEF's Peacebuilding, Education, and Advocacy program. She has been working for seven years in conflict program management and DM&E, with a focus on program design and conflict sensitivity. Prior to her work at Search for Common Ground, Rebecca developed a strong governance specialization centered on fragile states, technical options development for dialogue, and strategies for shared societies captured through her chapter on Governance in Mari Fitzduff's Public Policies for Shared Societies book. She has worked throughout Central America, MENA, and East Africa, building lessons learned through living and working abroad in rural, conflict-affected and transitional communities. Rebecca holds dual Masters degrees in International Development and Conflict Management from Brandeis University.
Help Expand our Resource Library