In this blog post, evaluator Barbara Klugman, discusses how social network analysis (SNA) can be a useful results-based method in pursuit of outcomes. SNA can help identify:
how connected different types of advocacy organizations are to each other;
what roles they play in relation to each other such as information exchange, partnering for litigation, driving a campaign, or linking separate networks;
if and how their positioning changes over time in terms of relative influence in the network.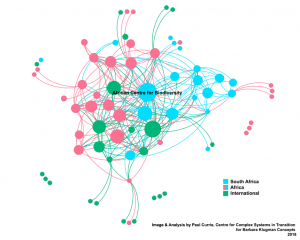 The post illustrates how one South African NGO is using SNA to map its information network its role and influence in its field. As depicted in the visual, each circle is an organization, sized by the number of organizations who indicated "we go to this organization for information". The analysis revealed that of the 55 groups advocating for food sovereignty in the region who responded, the target organization of the evaluation is the main bridge between South African groups and others in the region. It is also a primary information provider to the whole group alongside a few international NGOs and a few African regional organizations.
While the post focuses on SNA's utility for advocacy purposes, it also seems particularly pertinent to evaluating meaningful communication and engagement with communities, and thereby help identify entry points, engage different stakeholders, and develop strategies for two-way information exchange.
For the complete blog post, see HERE.
Help Expand our resource library