The Tamarack Institute's Community-Led Approach – An example of continuous, context-specific protection analysis based on the language pertaining to a community-based approach.
The Tamarack Institute is a Canadian organization that develops and supports collaborative strategies that engage citizens and institutions to solve major community issues across the world. Led by Lisa Attygalle, the institute released a publication that looked at the discrepancy in 'community-led verbiage' to ensure that communities are not inadvertently acted-upon but rather empowered through leadership. The study consisted of a review of 67 organizations who use the term "Community-Led" to describe the approaches to community change and found a range in engagement practices, from completely grassroots citizen action to organizations consulting with community stakeholders on program development.
To help distinguish between 'Community-Led' and 'Organization-Led' approaches, the institute outlined a spectrum of approaches and compares the benefits, risks, and engagement practices associated with each approach. The spectrum clarifies community change and builds a greater shared understanding of a richer array of community engagement options.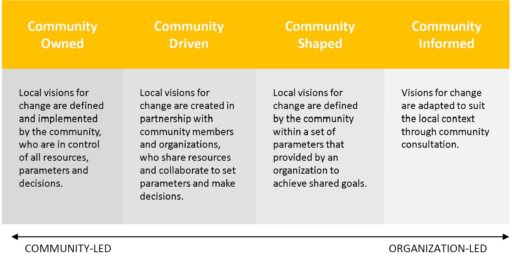 From its findings, the publication warns that such a discrepancy between intent, wording, and actions is significant as 'communities may continue to be acted-upon; organizations may continue to lack proximity to the issues which could lead to them making assumptions that may exacerbate existing systemic biases; trust between community members and organizations may be eroded; and organizations may be limiting the autonomy and capability of citizens to positively impact their communities.'
The humanitarian community defines community-based approach simply as including the members of the affected population as partners in developing strategies related to their assistance and protection. This approach, however, fails to account for the varying degree of the community involvement in participating in the above-mentioned strategies. The framing that the Tamarack group have put forward could be useful in alleviating this limit of generalized community involvement. With this framing, protection actors must be cognizant of how they engage the community to better address protection issues and thereby encourage a culture of empowering the affected population.
Help Expand our resource library