Humanitarians increasingly recognize the importance of ensuring that responses are context-relevant and context-specific, yet how we define context is not evident. ALNAP's research on how humanitarian response in complex urban contexts can be improved included a literature review, interviews, and revision of 25 existing context tools.
This policy brief summarized key points from the larger research initiative and are consistent with the first of the three key elements of results-based protection, continuous, context-specific protection analysis.
ALNAP defines "context" as:
the environment and circumstances within which something happens and which can help to explain it. Context is broader than the needs and vulnerabilities of specific individuals and groups, and the situation at the present time, for example, the disaster or the conflict.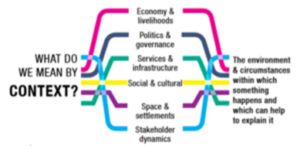 Within the humanitarian realm, numerous context tools exist, but they are generally not applied systematically. In addition, for these tools to be effective, an institutional commitment from senior leadership needs to be solid.
Organisations who foster an environment that allows for flexibility, encourages self-reflection and learning, are open to failure, invest in analytical capacity, and promote listening to diverse perspectives are also important.
Finally, the brief highlights the vital role that donors play in ensuring this sort of analysis becomes standard in humanitarian response in all types of contexts through funding as well as by encouraging organizations to demonstrate their understanding of context.
Donors have the power to shift the incentives, by acting as advocates for understanding context and asking all organisations to demonstrate their understanding of context, such as through an analysis exercise, as a standard part of urban humanitarian response programming
Sign-up
"*" indicates required fields