"Constructive deconstruction: future humanitarian action" is a podcast series exploring ODI's Humanitarian Policy Group's two years of research on re-imagining the humanitarian system, using design thinking to look at the humanitarian system through the perspective of the end user.
In the first episode of the three-part series, "The New humanitarian basics", panelists redefine "humanitarian crisis" and the humanitarian role, and pitches a vision of a whole-of-problem crisis response based on humanitarian principles.
Participants:
Christina Bennett, Head of Humanitarian Policy Group (HPG), ODI
Marc DuBois, author, former Executive Director of MSF UK
Abduraham Sharif, Director of the Somalia NGO Consortium
Nan Buzard, Head of Innovation, ICRC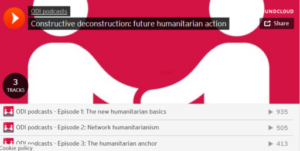 Panelists discuss the current state of the humanitarian sector, and the obstacles of rigid and siloes both within and across  sectors which overrides the importance of rooting humanitarian response in people's actual needs and experiences.
Panelists reflect on a vision of the future in which people and their needs are put in the forefront, and situated within context, and where different types of actors (across various sectors and disciplines) are brought together to create an architecture that can respond to the fullness of people's needs. Technology is creating more and more opportunities for capturing and amplify the voices of people affected by crisis, to ground interventions in the perspective of people affected by the crisis, and ultimately increase agency and ownership.
You can listen to the full podcast, as well as the full podcast series, here.
To learn more about the Humanitarian Policy Group's research, read the papers that inspired the podcast series, view our design experiment that reimagined humanitarian action from the perspective of its users and revisit our work on remaking humanitarian action for the modern era.
Help Expand our Resource Library