Building off a literature review on the evidence base for collaborating, learning, and adapting (CLA), this blog post focuses on new evidence with implications for CLA.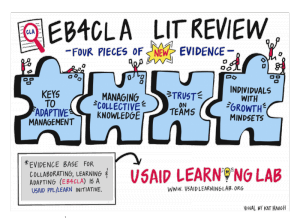 The blog post explores creating an organizational culture that values application of learning iteratively and adaptive management. The core findings include:
Teams that have high levels of trust and are considered safe for interpersonal risk-taking tend to be better at learning and adapting. Such teams are more likely to participate in risk-taking learning behavior and geared toward proactive learning-oriented action which translates into results. As highlighted in the November/ December RBP update article Framing CLA: Openness in Uganda, these teams foster modelling open behaviors (including openness for critiques, accessibility, and maintaining less hierarchical structure).
Quality knowledge management systems have a significant impact on project performance. The literature reviewed found that people-centric knowledge management processes which emphasize CLA are positively linked with improved outcomes, as they enable staff to engage in continuous analysis and track critical milestones in the causal logic underpinning the intervention (underpinning Outcome-Oriented Methods integral to RBP).
Individuals who have "growth mindsets" and are able to empathize with their colleagues are generally better able to adapt to changing circumstances. The literature found that hiring those with "adaptive mindsets" (emphasizing inquisitiveness and flexibility) and who demonstrate empathy towards their team members had a direct impact on a team's ability to learn and adapt to affect change.
Adaptive management contributes to sustainable development (and protection outcomes) particularly when it has broad leadership and public support, and an adequate investment of time. Study findings point to organizations that uphold data-driven and adaptive approaches possess better performance indicators down the road; however, it is important to consider that to see change, this requires an investment of patience and support of leadership and members.
Help Expand our Resource Library