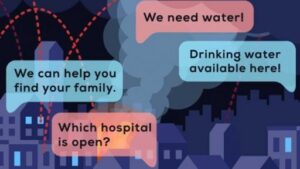 Provided the sustained relevance of platforms such as Facebook and Twitter for information exchange during humanitarian emergencies and the opportunities therein to engage those closest to the crisis, the International Committee of the Red Cross (ICRC) and the International Federation of Red Cross and Red Crescent Societies (IFRC), with support from the United Nations Office for the Coordination of Humanitarian Affairs (OCHA), have published a brief guide on how to use social media to better engage people affected by crisis. The guide is geared toward staff in humanitarian organizations who are responsible for official social media channels.
In the chaos that normally follows a disaster or crisis, rumours and fake news can spread quickly. If left unaddressed, these can undermine the trust people have in humanitarian organizations, and can even make it less safe for our volunteers and staff. By engaging with social media as standard practice in the aftermath of an emergency, we can understand what people are worried about, we can see the news they are sharing, and we can respond decisively, accurately and collaboratively.

Dr. Jemilah Mahmood, Undersecretary General for Partnerships at the IFRC
The resource provides useful tips for:
How to build proximity and trust online;
Platforms for social media monitoring, and building culture of listening;
Advice for receiving and elevating criticism;
What resources and processes organizations should have in place; and
Using social media to identify and connect with influencers.
While this guide is not meant to replace locally relevant, trusted communication channels, it provides opportunities for amplifying voices of those impacted by humanitarian crises and building a more robust and continuous analysis of the risk environment. It emphasizes that social media can be leveraged to draw out the experience of those closest to the crisis and ideas from the affected population on a continuous basis related to the threat environment, vulnerabilities, and existing capacities as they relate to those threats. Social media platforms can also allow practitioners to tap into how information itself is obtained, shared, and which outlets are the most trusted, which is an integral part to developing a comprehensive protection analysis and informing how the organization approaches communication/ information dissemination, advocacy, and partnerships. This guide and complementary resources highlight the potential social media provides for continuous monitoring  to develop and iteratively revisit the context-specific causal logic, strategies for bringing about change, and actions taken to achieve the desired protection outcome, while enhancing trust, accountability, and interconnectedness.
Help Expand our resource library