Congratulations to our winners of the 2020 Results-Based Protection Good Practice Contest!
In September 2020, for the first time, InterAction launched a contest to collect examples from the humanitarian community demonstrating how they have embraced the Key Elements of Results-Based Protection (RBP) in their work to address protection issues in humanitarian crises.
Submissions came from organizations operating across Africa and the Middle East. Each submission indicated promising movement towards working in a results-based way to reduce risk for the affected population.
Across the board, the examples submitted mainly focused on ways to collect data and information for better protection analysis. The key to good protection analysis, as emphasized in RBP Key Element 1, continuous, context-specific protection analysis, is that the tools and methods used must start from the perspective of the affected population, be contextualized to the specific realities of each context, and be carried out in a continuous manner. This analysis should then serve to inform and adapt programming to achieve results and protection outcomes of reduced risk.
With that, four of the submissions stood out for their dedication to creating contextualized methodologies, their creativity, and their ability to demonstrate how their actions are leading to results.
Without further ado, we present our first place winner, two runners-up, and one honorable mention for the 2020 Results-Based Protection Good Practice Prize!
First Place: WeWorld-GVC for their Community Protection Approach
WeWorld-GVC is an international NGO that drives and implements a Community Protection Approach (CPA) to protection that embraces all three RBP Key Elements. The CPA, submitted by Paloma Solo de Zaldivar, Francesco Michele, Betina Borova, and Ahmad Sharif, is a community engagement and empowerment methodology to design integrated protection programs (e.g., multi-disciplinary strategies) and provide operational tools to facilitate coordination and complementarity between different actors in order to find sustainable solutions to a given population's needs and protection issues.
The approach, first piloted in the Occupied Palestinian Territory (oPt) in 2013, promotes a variety of mixed methods for data collection, with a focus on amplifying the voices of the affected community and actively engaging them in problem-solving monitored via the use of community-driven Protection Response Plans. The methods can be adapted to suit each context. The analysis generated through community engagement is fed into a widely shared database and used to influence multi-sectoral programming–frequently organized through in-country consortia–to comprehensively address community Members' challenges. Since its inception in 2013, the CPA has been adapted multiple times based on learning and evaluation findings, thus demonstrating an iterative approach to program design.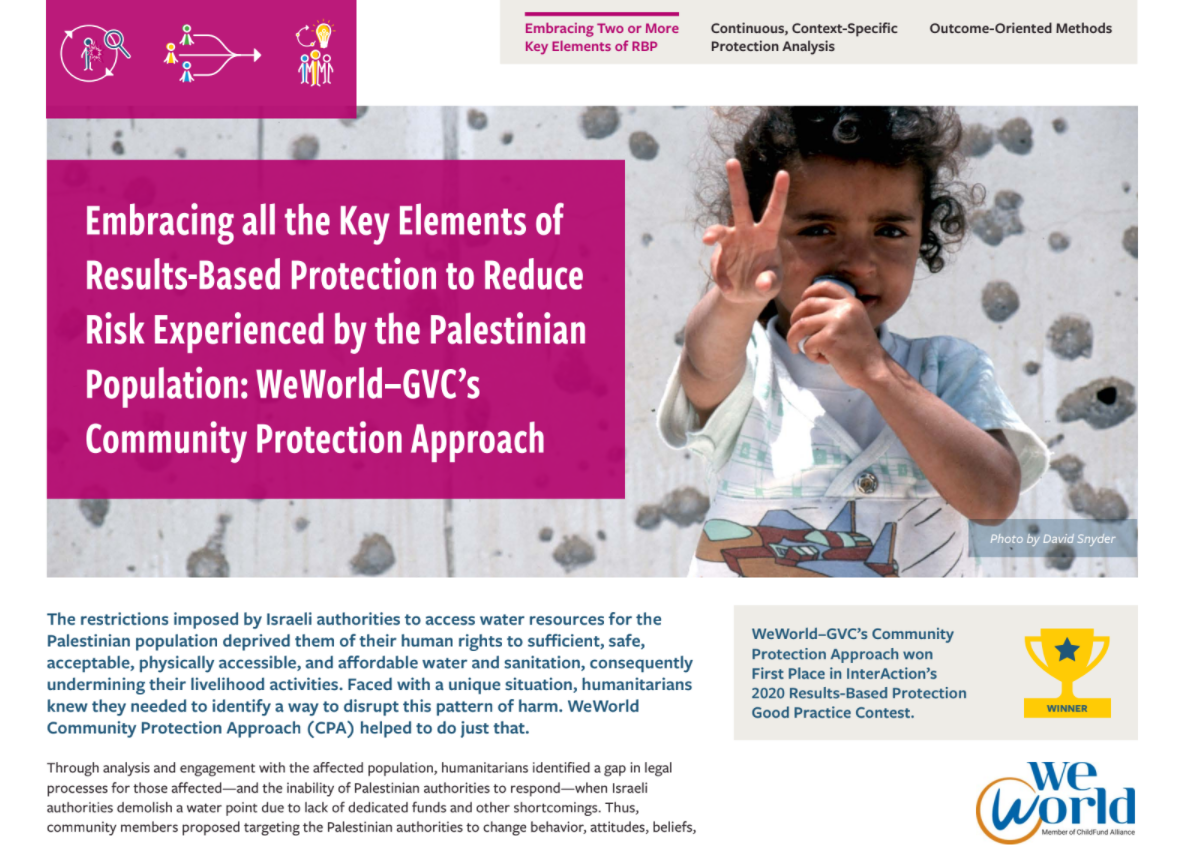 Congratulations to WeWorld-GVC! We look forward to further exploring the CPA approach and documenting your experience and lessons learned to share with other humanitarian actors around the world.
Runner-up: Danish Refugee Council Iraq's tool for Focus Group Discussions, Prioritization, and quick Protection Analysis
This tool, submitted by Elena Bartoloni from DRC Iraq, represents a new initiative driven by an individual that is actively testing and applying a results-based methodology. It's a great example of a light-touch approach that is suited for ongoing analysis. It demonstrates that protection analysis doesn't always need to be heavy and resource-intensive in order to understand key risk patterns.
The tool features a suggested list of questions for focus group discussions on protection risks that flow into a framework for prioritizing and analyzing key risks based on the community's perspective. The questions reflect the three components of the risk equation—the source of the threat, people's vulnerabilities to the threat, and their capacities to deal with it.
We look forward to learning more about the DRC Iraq team's experiences as they apply this tool and ultimately use it to inform programming and reduce risk.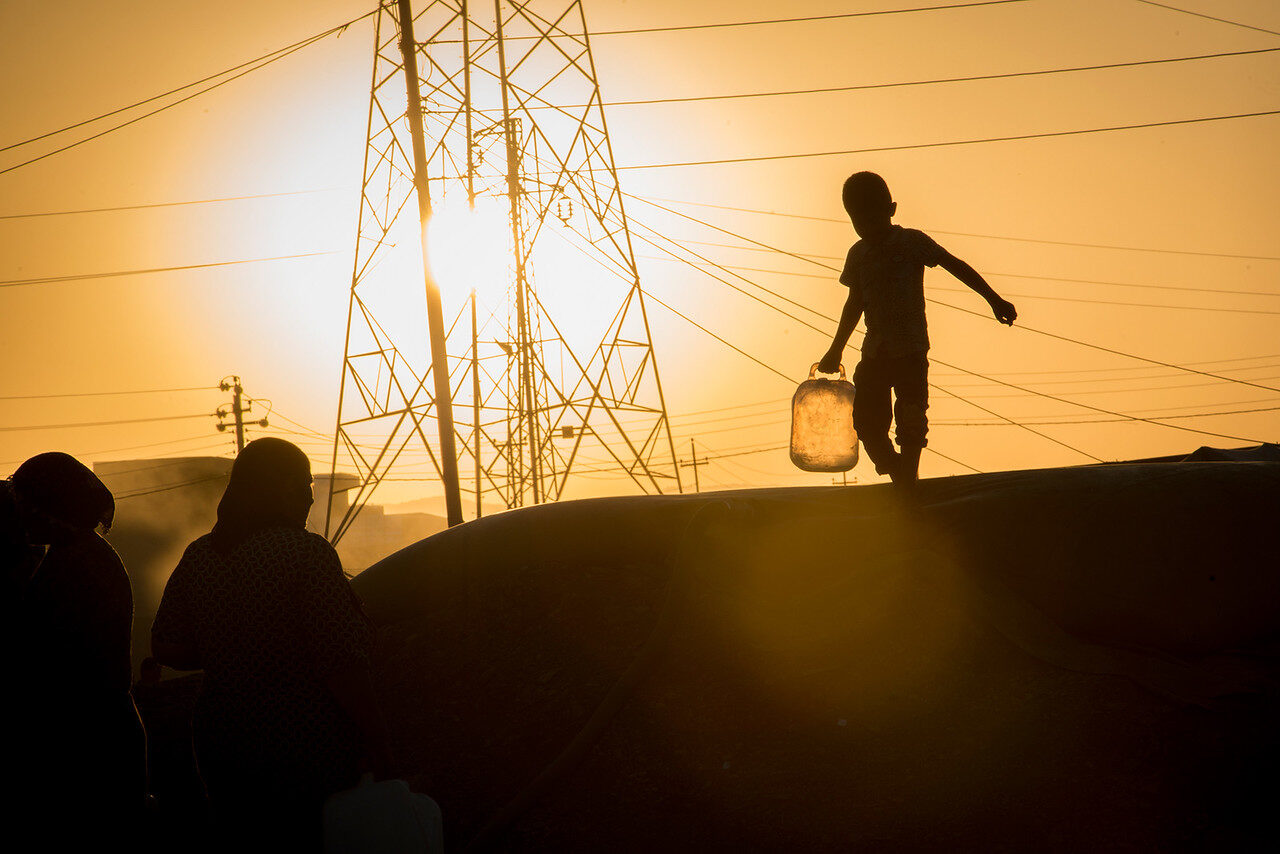 Second Runner-up: The International Rescue Committee Italy Team's Refugee.Info Information Platform
The "Refugee.Info" initiative, also a new initiative, submitted by Katie Grant, Elena Caracciolo, and Camilla Fabozzi on behalf of IRC Italy, is a two-way information platform that is intended to provide information to the affected population to empower them to make decisions and navigate the protection risks they are facing. In Italy, the platforms currently used to reach the migrant population is a website, a Facebook page, and a Messenger group chat.
In testing out this platform in Italy and elsewhere, IRC Italy is actively adapting the platform based on new learning. For example, after launching, it became apparent that the messages and posts from migrants on the platform could be continuously monitored to understand the protection issues they are facing and facilitate a trends analysis. These analyses can then be used to prompt action to reduce the risks identified; IRC's team shapes the information they produce and share via the platform based on the trends they are seeing among users. One recent trend identified is the forced evictions of migrants due to COVID-19 restrictions.
As this initiative develops over the coming months, we are excited to continue engaging with IRC Italy to understand how the platform evolves and how trend analyses are used to inform programming and reduce risk for migrants.
Honorable Mention: UNFPA Regional Syria Hub and the Whole of Syria GBV AoR's approach to GBV Data Collection in Syria
UNFPA Regional Syria Hub and the Whole of Syria GBV AoR's approach to GBV data collection in Syria, submitted by Fulvia Boniardi, involves a comprehensive set of methodologies to collect data from the affected population on existing GBV risks. It promotes starting from the affected population's perspective and using contextualized tools and indicators, including proxy indicators for sensitive GBV issues, to strengthen their understanding of emerging protection risks and trends to inform inter-agency processes, including the Humanitarian Needs Overview (HNO) and Humanitarian Response Plan (HRP).
We look forward to learning more about this approach!
In addition, their examples will each be featured in InterAction's forthcoming publication of notable examples from around the world of Results-Based Protection in practice. This publication will be widely disseminated for other interested stakeholders to learn from and connect with each other.
Be sure to check the RBP website for updates and more information about the upcoming webinar and our winning submissions!
Sign-up
"*" indicates required fields